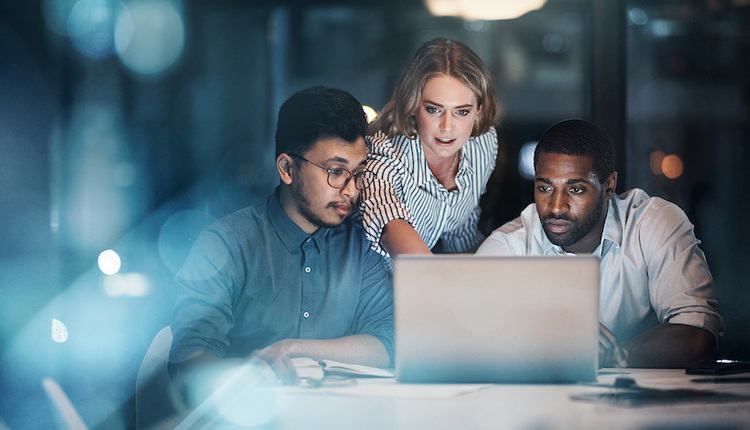 Whether we like it or not, we live in an omnichannel world. What is good about that, is it provides broader opportunities for communications to conveniently reach customers. In theory, this sounds great. In practice, it creates a lot of operational overhead supporting multiple channels and honoring customer delivery preferences, while trying to deliver a consistent level of relevant personalization and consistency. In addition, customers want more personalization than ever before. It's no longer enough to simply use a customer's name or to broadly group customers into target segments. Customers expect their vendors and suppliers to know them and provide relevant information.
As organizations move to support more digital channels, the logistical challenges of the old methods of content management also come to light. Targeting communications by creating variations of materials for each segment often necessitates the duplication of content across multiple templates both within and across channels. Suddenly, the realization hits you: How we have approached personalization in the past no longer works. Customers want more and they want it everywhere.
Composable content drives greater personalization and relevancy
The bottom line is that you can't achieve the fluid, cross-channel hyper-personalization customers expect today unless you change how you manage your content. Reliance on the kind of historical document or template-centric model inherent in customer communications management (CCM) tools forces you to manage content in disparate files, in operational silos. Breaking free from this legacy approach is necessary in the new world of digital communications.
Composable content is a next-generation approach to content management that focuses on creating, organizing and managing smaller components of content that, when assembled together, make up a composed communication or digital experience. This provides the ultimate in flexibility to pick and pack content in a way that is truly custom to the individual customer. It liberates content from the channel silos that create redundancy and inefficiency in content operations across an organization.
Composable content can be thought of as a modular content management approach in which you break down your communications into more granular content components. These could be snippets of text inserted into a paragraph, a block of text, a phone number, a regulatory disclosure, product name, offers, images, ads, logos and much more. These components can be easily shared and reused across all communications and channels, while being created, edited and controlled from a single source. Content components may also have channel-specific renditions, so content can fit the channel, while still being centrally controlled. For instance, a message displayed on a website might have a shorter rendition when delivered by SMS.
When you start to think about your content in a composable or modular way, you make it possible to target it to the right individuals and efficiently re-use it across channels and communications. Key to this also is the ability to leverage atomic content components. These are tiny fragments of content (think a word, a fragment of a sentence), the most elemental building blocks that can drive both personalization and efficiency to the next level. These building blocks can be selected by the content author when creating the communication or can be selected and assembled through data-driven targeting rules or dynamic variant selectors.
Scale communication channels and experiences without multiplying the effort
The key to adopting a composable content approach is having a way to federate content in a hub that is accessible via headless APIs. With headless APIs, content is typically delivered in HTML or JSON (JavaScript Object Notation) format to a channel tool (the head) that determines how the content will be displayed and presented. These APIs make it possible for content to be dynamically personalized and delivered in sub-second response times. This unlocks the content that was once reserved for composed printed communications, letters and emails and makes it instantly accessible to digital experiences including web pages, mobile apps, personalized video or even IVA (intelligent virtual agents) and chatbots.
Headless APIs also allow for scalability. They enable organizations to leverage one content hub that supports not only traditional large-batch processes, for example, sending out a monthly statement to hundreds of thousands of customers, but also on-demand processes, such as a single customer accessing a mobile app. Having that range and reach is key to enabling efficiency and brand alignment, and consistently personalizing content across the customer journey.
Finding and crossing the bridge
Until businesses adopt a composable content approach they will remain trapped, stuck using broad and unsophisticated segmentation, delivering disjointed omnichannel experiences to customers who have the means and flexibility to instantly access communications elsewhere. Fortunately, there are solutions that provide the bridge to move from traditional CCM to transforming the way we author, manage and deliver content and the way we create experiences and conversations, ultimately preparing us for a truly digital future.
The first things you need to look for are the ability to manage the content granularly and independently of the template and the communication. Also, by leveraging a solution that integrates with the technologies you have (such as CCM solutions), you can avoid having to replace those systems. Look for platform capabilities that provide low-code or no-code content and rules management to empower content managers, irrespective of their technical backgrounds. This will ensure your business teams can manage the content, while your developers leverage the headless APIs to integrate the content into your experiences. Then, you can start to think about crossing the bridge to create truly dynamic communications and conversations that engage customers in an omnichannel world.
Patrick Kehoe is Executive Vice President of Product Management for Messagepoint, Inc. an AI-powered customer communications management solution that automates and simplifies the process of migrating, optimizing, authoring, and managing complex customer communications for non-technical (business) users. Patrick has more than 25 years of experience delivering business solutions for document processing, customer communications, and content management.