Customers are the lifeblood of any business. If a business fails to serve its customers well, the business itself will ultimately fail. It is this old wisdom that is driving businesses forward to invest in new technology, but the complexities are often enormous.

Many businesses are on a journey to improve the way they engage with their customers. This is primarily driven by changes in consumer behavior (mobile and online), a desire to better control cost and risks, as well as the need to increase business performance. On top of that, successful digital marketing concepts, such as customer advocacy, are beginning to permeate organizations and enforce the belief that every customer communication interaction (even offline) should support the ultimate goal of creating a positive experience of the brand. This customer-centric approach will help marketing with higher retention and offer more up-sell/cross-sell opportunities to existing customers, and it will also attract new customers in a more effective way.
Figure 1: The Customer Engagement Journey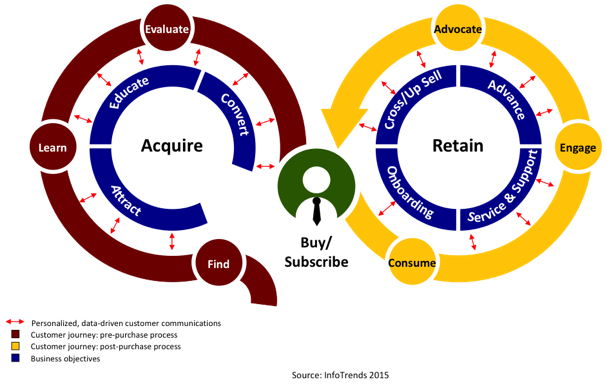 What we are witnessing in today's market is that companies, especially large enterprises, are moving rapidly in the direction of orchestrated, multi-channel communications. For them, synchronizing the customer experience between online and offline channels is absolutely crucial. This can be done by focusing on mobile; by giving customer-facing staff in call centers and branches access to customer communication delivery systems; by updating communication templates and processes to ensure that branding, style and messaging is consistent across all channels; or simply by better orchestrating (timing) communications.

Another big trend in the business today is to enable channel preference management (i.e., knowing how customers want to be communicated with but, more importantly, also being able to honor those requests). Almost 20% of customer delivery requests cannot be honored because of outdated information technology (IT) systems, conflicting data or other technical challenges.

Finally, data analytics is crucial to help organizations better engage with their customers. Through deeper segmentation and better data insights, organizations can increase the relevancy of their communications and drive behavioral change more effectively. The problem with customer communications management (CCM) is that offline channels are often difficult to track or that metrics that do get collected focus on a distinct area. This is why we see a need among enterprises to improve customer experience metrics as well as the ways to capture those metrics.
Figure 2: Top Initiatives for Enterprises to Improve Communications

Unfortunately for enterprise communication professionals, the road to better customer engagement is often quite bumpy, full of intersections, conflicting road signs and unclear destinations. When we ask enterprises where they need help, it is often around strategy development, data management insights and understanding/capturing customer experience metrics.
We have just completed a large primary research study in which we surveyed over 800 businesses in North America and Western Europe to better understand their customer communications and engagement challenges and investment priorities. On May 13th, I will be highlighting some of the key findings in my analyst presentation at the DOCUMENT Strategy Forum. Hope to see you there.
Kaspar Roos is a director for InfoTrends production software services group, which focuses on providing technology, business and market insights to clients active in the customer communications management, digital marketing & media and production workflow markets. For more information on InfoTrends' Customer Engagement Technologies advisory service, visit www.infotrends.com/public/Content/Services/CET/cet.html.