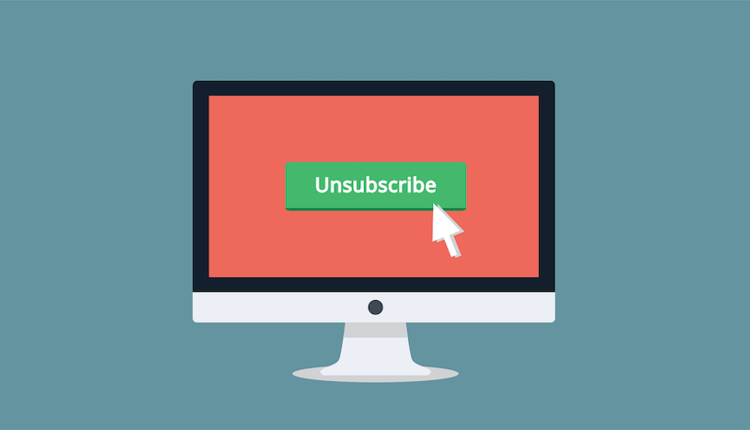 Hitting unsubscribe is easy. We've all done it. It's easy because the law requires it to be easy (and nobody likes paying fines). It's also a best practice to make unsubscribing to emails simple in the age of CX. There are any number of reasons we hit "unsubscribe," respond with "STOP" or otherwise escape from an email list. Sometimes it's because we had a bad day or we recently binge-watched every episode of "
Tidying up with Marie Kondo
," or we just can't read another word.
At the time, it might have made us feel better, relieved some stress or decluttered the inbox, but once you leave a list, getting back on the list is up to you. No newsletter, newspaper or publication will come back and beg you for a chance to correct the situation. Once you are unsubscribed, you are out. You are forever unreachable, even if the company has information that makes you more efficient, highlights a new trend or has valuable information from a leading analyst. When you hit unsubscribe, that vendor cannot contact you unless it is regarding a payment (if your name is on the contract), an active support call that you initiated, or a hand-crafted email from an employee.
As a CCM and CXM vendor, we look at the relevant analyst reports. It's important to learn from these reports to improve the business going forward. One criticism that appeared in a write up of Quadient (as well as a few other vendors) was that customers did not feel that enough information about new releases and features was being delivered to them. We went deep into CSI-level forensics to understand and react to this feedback. We took a look at our documentation team, our release documents and communications from the launch of Quadient's Inspire R14 in February of this year. The information was there. The content was there. We had a trail of email campaigns released that were designed to get the word out. We sent those campaigns out. Then, we took another look at our list… and we thought about our own behavior, and it checked out. We had a lot of opt-outs and unsubscribes.
What happened? Perhaps we sent some Customer Journey Mapping related emails that arrived in the inbox of a customer who did not yet (or ever) value the concept. Perhaps we sent a department manager some information about orchestration technology when they only cared about easily approving legal content. Or maybe the message arrived while they were mad that Tom Brady signed with Tampa Bay and hitting unsubscribe made them feel better for a few minutes. For whatever reason, the person unsubscribed. They were gone.
Let's take a look at what happens after you hit unsubscribe.
I can't speak for all vendors, but most companies' marketing teams have best practices and policies about maximum amounts of email that can be sent from a company to any customer. Quadient's policy is to limit the maximum messages to three messages in two weeks. We don't generally send that many messages, but that is our maximum policy for marketing engagement.
So, that's a vendor doing their part to respect your time and inbox. Generally, technology vendors try to write good headlines that make it easy to delete the message if the subject doesn't grab you.
Let's say you might receive an email about customer journey orchestration that doesn't interest you yet, because it's an early trend. Not interested? OK. Just delete it. The next email may feature access to an analyst report that doesn't interest you. No problem. Just delete it. However, an email after that invites you to a virtual panel discussion that features some of your competitors who will share secrets of their success. This is one you are certainly interested in. But, wait—if you opted out with the first email, you would never get this good content.
Here is a great quote from Kaspar Roos, Founder and CEO of
Aspire Customer Communications Services
, a boutique consulting firm specializing in the CCM and digital customer experience (DCX) industries on the subject: "The CCM technology market is rapidly evolving—for example, new technologies such as AI are making their way into products. Our research indicates that AI is the number one software investment priority for businesses across the globe, which is pretty amazing for a market that didn't exist two years ago but signifying its potential. Opting out from mailing lists, whether it is your preferred vendor, industry analyst firm or media publication, will put you behind from a competitive perspective."
I invite you to take a quick look at your inbox for the next three or four weeks and if you aren't getting messages from your key vendors, do yourself a favor and get back on their mailing list. Otherwise, you might miss out on some valuable information that will save you far more time than the few moments per year scanning subject lines for items that interest you.