Image by: chaoss, ©2015 Getty Images
Digital transformation has moved up in the list of enterprise priorities for good reason, but getting beyond the standard pundit exhortations to go "digital first" means answering a practical question: How do you go about it?
Two gaps
Based on our research here at Real Story Group (RSG), enterprises must close two key gaps:
Hyperbole: The gap between what vendors say their technology can do and what it really does
Capacity: The gap between what the technology can genuinely enable and what you have the internal resources and expertise to execute
With the Hyperbole Gap, it's not that technology vendors lie. It's just that they tend to exaggerate the ease of use and return on investment of their systems. The result is that customers typically can't take full advantage of the capabilities they thought they were buying.

The Capacity Gap is more serious because it limits your ability to successfully incorporate digital into your workaday business. Yet, there's a silver lining here. Your competitors also suffer from a lack of experience and expertise. Recently, we've been benchmarking some of our research subscribers, and nearly all the participants lament, "We're behind." In absolute terms, maybe so, but in relative terms, maybe not. We can't all be behind. If your organization has been slow to adopt digital, it's not too late.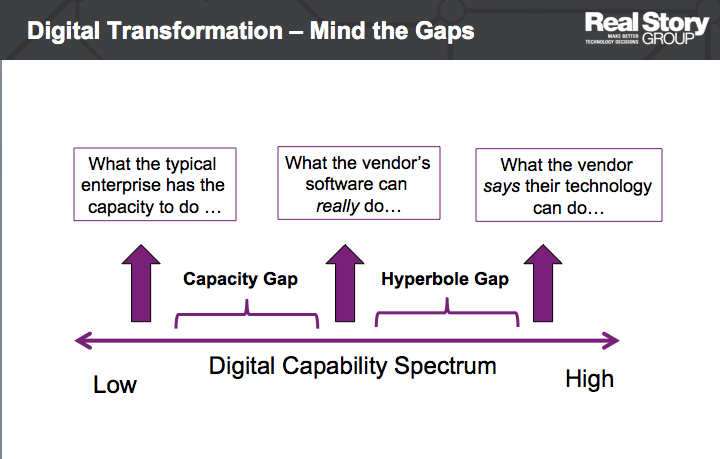 Closing the gaps
Closing these gaps requires solid decision-making in the early stages of your digital planning, where you can most effectively steer your organization in the right direction for the long term.

To close the Hyperbole Gap, make sure to research what technology vendors really do—not what they say they do. You need to remain especially wary of traditional analyst rankings that overweigh vendor size and brand name while undervaluing smaller, more innovative (often, cloud-based) players. IBM, Adobe, HP and Oracle are counting on you, at some level, to buy into their brand, but for most of you, their platforms will be overkill.

I know that taking a more best-of-breed approach may be anathema to organizations that associate major change with complex, high-end technology platforms. Yet, if you take a more scenario-based approach to technology decision-making, you may discover that digital transformation can actually come more readily with simpler tools.

Closing the Capacity Gap takes long-term strategies and planning. Based on our benchmarking work, you'll encounter some specific hurdles, but they can be overcome.
Your executive leadership may be unaware of specific shortcomings and their impact on organizational effectiveness and customer satisfaction. Use structural assessments to visually demonstrate the practical work that needs to be done going forward.
Different people in your organization may have a different assessment of your levels of maturity. Therefore, it is important to perform cross-functional assessments to get internal alignment.
Your capacity may be imbalanced (strong in one area of technology/people/process/information but weaker in others), so work to shore up your specific deficiencies.
You're likely to find that insufficient human capacity represents your most pressing deficit.
Start any strategy with a clear-eyed view of what skills and experience you possess today—on your digital teams as well as within your enterprise at large—and work to upgrade both in the coming quarters.
After you've done your research and planning, you may need to turn to outside help. Systems integration firms can help you close the Hyperbole Gap by speeding up your technology implementations. Interactive agencies can help close the Capacity Gap by teaching you essential user experience and journey mapping methods.
Just understand that both types of suppliers offer short-term accelerants to your programs and should not be employed as a replacement for building long-term enterprise capacity.

Where to start
What's the first step to building that long-term capacity? I'll argue that you should start with your own employees.
To be sure, "digital enabling" your products and distribution chains can unleash substantial value. However, you will find it increasingly difficult to realize that value if your employees are working in outdated, human-unfriendly digital environments themselves. Employers who want to retain the talent required to serve customers in a digital world will need to pay just as much attention to the quality of their digital workplace.
The digital revolution is bringing many changes—some you can control, and some you cannot. Your enterprise can't control the pace of digital innovation in the broader world, but the good news is you can control the extent to which you build the internal capacity to exploit it. So, put resources into "digital enabling" your products and offerings, but also put resources into selecting the best-fit tools and building the digital savvy of your employees and partners.
Tony Byrne is founder of Real Story Group, an independent analyst firm that evaluates digital workplace and marketing technologies for enterprise customers. Contact him at tbyrne@realstorygroup.com.