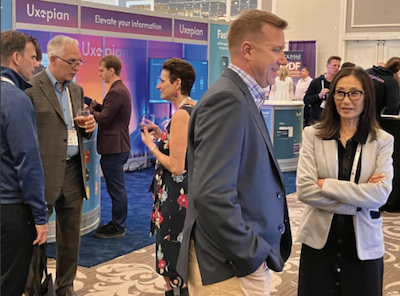 This year's
DOCUMENT Strategy Forum (DSF '23)
was held from May 22 to 24 in Charlotte, NC. Many CCM professionals meet annually at DSF to discuss evolving trends and best practices. Artificial intelligence was the most discussed topic at this installment, its popularity driven by the emergence of large language models (LLM) like ChatGPT that are quickly finding their way into CCM and CXM solutions. I'd like to offer a few projections on where I see AI impacting the space now that we've had an industry-wide update on the latest developments.
While many vendors took the opportunity to showcase their AI offerings at DSF, the most impressive demo I saw was actually presented by O'Neil Digital Solutions the day after the show. As analysts, we often get sneak-peaks at beta versions so we can help clients prepare products for market launch. The technology that O'Neil presented will soon enter the market as a highly disruptive offering that will begin to join the dots between data analytics (which tell businesses what messages to send to which customers in order to achieve a specific business outcome), content (longer-form generation of the message in full alignment with the objectives) and coding (the generation of the form, template or workflow steps in this particular instance).
When I began working as an analyst at InfoTrends (before launching Aspire), Apple had just launched the iPhone to similar industry buzz. It was clear this new piece of technology would have a very big impact on the wider world, (and therefore our industry as well). When I think about how ubiquitous the smartphone has become in our daily lives and how much change the CCM industry has gone through as a result, it tells me that we should buckle up because AI will surely disrupt the communications space to an even greater degree than we've seen thus far.
The CCM industry is sometimes a strange one because its definition is dependent on perspective. At Aspire, we use three major definitions. In Figure 1, we've analyzed AI's present and future impact on the industry through each of these lenses.
The first and oldest tells us that customer communication management is all about processing high-volume communications (usually of the printed document-centric transactional variety). This view is relevant to enterprises, service providers or tech vendors that still produce a lot of printed communications and are looking for ways to achieve operational excellence in omnichannel communication production.
Artificial intelligence has already been applied in this space — which we define as enterprise communications processing (ECP) — to intelligently tag communications so they can be easily transformed into accessible documents that leverage text-to-voice technology for recipients with impaired vision. Crawford Technologies demonstrated some new developments in this area at DSF. Other developments include metadata extraction and classification for better processing, as well as intelligent setup for faster onboarding. There is an opportunity in this segment to apply AI for fully automatic post-composition re-engineering with the ultimate goal of creating highly intelligent systems that can rework templates and business logic based on a finite set of documents. These systems would have the intelligence to alter print workflows (and the associated devices) on the fly based on next-level decisioning and orchestration.
Next, there is an upstream view of communication generation. Traditionally known as document composition, software in this segment is focused on communications content, business logic, and generation (often digital generation in today's market). In this space, AI is typically leveraged to analyze content on reading comprehension levels or to accelerate migration by finding and eliminating or consolidating duplicated content in communication templates. But now, with the arrival of ChatGTP, vendors are beginning to integrate generative content capabilities, content re-writes, and coding for templates, forms, and business logic. At DSF, Messagepoint announced general availability of its ChatGPT integration for suggested content re-write, the first in the industry. We've yet to see much focus on artwork or image generation, but it is only a matter of time.
As AI matures and develops, we expect AI engines to begin writing code and developing content that is superior to the quality of human output. Once that threshold has been breached, AI will fundamentally disrupt the market, promising tremendous opportunities for those who master it but doling out severe consequences to businesses that fail to adapt quickly enough. Nevertheless, we cannot be completely sure of the future since governments and regulatory bodies may introduce new relevant rules and legislation, particularly in Europe, where data privacy and protection of labor are important themes. This will put Europe and the United States on different development tracks.
Finally, the third definition of CCM categorizes it as part of the customer experience management (CXM) space. CXM is all about optimizing a customer's perception of the brand. In the context of CCM, this means communications should always be relevant, highly personalized, delivered to the customer's preferred channels. As the market evolves, enterprises will either build their own Communication Experience Platform (CXP), or they will adopt a SaaS model through a service provider or tech vendor.
CXPs combine document composition with adjacent capabilities from the CX space, such as dashboards, data analytics, forms, e-signatures, payments, portals, conversational messaging (chatbots), and increasingly, campaign management as well. AI is poised to make a tremendous impact in this field, not only by powering the delivery of emerging, bi-directional channels, but also through big data analytics and real-time orchestration that will push the correct content to the right recipients at the optimal time, boosting desired consumer behavior and positive business outcomes. We've seen the market take its first steps in this direction and looking at the rate of development in the MarTech space, we expect AI to make significant inroads here in the years to come. Just look at how easy it's become to generate graphics from text.
So where does that leave us? With the arrival of large language models (LLM), many analysts think AI has moved from narrow intelligence to general intelligence. The big question is to what extent the AI we see today will evolve into something that is called "Super Intelligence." This is the AI's ability to autonomously increase its own intelligence and quickly outstripping that of its human counterparts.
The bigger question we must ask ourselves as a society (and soon), is whether we want this to happen and if so, how confident are we that we can contain this new power and use it for the benefit of humanity. These are fundamental questions, and again, new pertinent legislation will soon be introduced that will also factor into future projections. For instance, the European Parliament has taken up discussions of the newly developed AI Act. That said, I don't see how content creation or template coding can be regulated in a globally connected world.
If AI overtakes our human ability to efficiently create and deploy communications (and that is still a big if, since many experts argue that creativity is linked to emotional intelligence, which AI cannot ever possess) the widespread effects will first impact our industry in places like India and Eastern Europe where large offshore development teams will be replaced by self-coding AI solutions that transform text-to-templates at a faster rate and with better quality than human teams. Service providers, particularly those relying on labor augmentation, will then need to offer technology-enabled services or focus on other industries with less risk of AI displacement.
Another consequence of more AI would probably, paradoxically enough, be a swing back to print. We've already seen a strong correlation between digital maturity (such as the ability to better segment customers) and the effective use of direct mail. In addition, if AI evolves to a point where the best digital experiences are becoming a commodity and every interaction with a brand is fully automated and essentially performed by robots, it wouldn't surprise me to see the pendulum swing back to a world where people (particularly Gen Z and Gen Alpha) place more value on having physical experiences. In that scenario, well-designed print pieces (perhaps, ironically, developed by AI) that are part of a true omnichannel communication mix driving desired outcomes, would surely bring us back to previous times. Thanks to AI, print-BPOs looking at the future shouldn't get rid of their graphic arts print kit just yet...
Aspire is a strategic consulting and analyst firm specializing in the evolution from CCM to CXM. We're currently planning a ground-breaking study on the future of AI in customer communications. Please visit https://blog.aspireccs.com/new-ai-research-from-aspire to learn more.
What Others Learned at DSF '23 Charlotte
• DSF '23 Charlotte Received 4.4 Stars out of 5!
• 97% of Attendees Say They Would Recommend Attending DSF to Their Colleagues
"A fantastic DOCUMENT STATEGY Forum (DSF'23)! I learned so much from our advisory board members, sponsors, exhibitors and attendees: 1) We all face similar challenges regardless of industry. Paper is still here and postage is only getting more expensive but there are many options and strategies to move the needle. 2) Center led models are a best practice for cracking the code and providing a better customer and advisor experience. 3) We all recognize that Generative AI will be a game changer. How we harness it successfully while practicing good governance will be a big part of the conversation by the time we get to Boston next year."
Leslie Sapienza
Vice President, Customer Communications Management
"It was a great learning experience, and the possibility to share best practices and new developments."
Edwin Nuijten
Product Domain Manager Communication Platforms
NN Group
"We choose to place a larger emphasis on DSF '23 than any other industry shows. DSF '23 attendees are the perfect mix of customers and partners, and there are so many great sessions and networking opportunities. We attend every year and we always leave the conference with multiple leads. Great job, DSF! We are looking forward to DSF '24 Boston!"
Michelle Livingston
Governance Director
Neps, Inc.
"From a panel of CCM enterprise executives. Someone asked a question, 'what's the most important thing for you to partner on. Everyone said technology is the easy part. The part that makes a really good partner is ability to help with implementation, integration and then the distribution. Because they're not the experts… they're experts in insurance, banking, (etc.) but they're not experts in how to get customers to convert to digital channels or how to implement the technology to get the most value to my consumer. Service providers, that's where you can add value and help your customers really leverage the technology. They want partnerships, they don't necessarily need vendors. Even though you're a vendor, the partnership makes a difference."
Elizabeth Stephen
Customer Communications Strategist and Consultant
"My biggest takeaway was from IDC. From their perspective, they see that customer satisfaction scores will go away and rather, look at the customer effort scores. I think that is exactly what we should be asking: How much effort does it take a customer to do something that we want them to do? And is it effort that we want them to be spending? I think it's a far better way to understand whether you're hitting the notes on your customer experience."
Mia Papanicolaou
Customer Experience Strategist and Consultant, Communications Specialist and CCM-CXM Professional
"DSF is the goldilocks forum. It's just right. It's not too big, it's not too small. The ability to come and meet with like-minded CCM experts is paramount. And last but not least, really seeing how CCM is evolving and impacting the customer experience is what I gained most."
Nannette Mears
DSF Advisory Board member